Slow Cooker Chicken Recipe (in less than 5 minutes!)
Photos by Briana Lindsey Photography
This shop has been compensated by Collective Bias, Inc. and its advertiser. All opinions are mine alone.
#Homemade4TheHolidays #CollectiveBias
There's nothing quite like a simple + delicious recipe that takes less than 5 minutes to make. Yep, you heard that right. Less than 5 minutes and you can feed the entire family! And you'd better bet it's delicious too. Anything that can save us time so we have more time to spend with our babies is a win, in my book.
So I headed to Sam's Club on a mission to make a recipe that was just that -- delicious, easy and quick. With lots of family gatherings through this holiday season and soup weather quickly approaching here in Southern California (finally!), I figured I'd better stock up in bulk. Because one grocery trip with a toddler is far better than 5.
If you don't need to stock up in bulk, the holidays are such a great time to pay if forward to families in need. I'll be using what we need for our holiday meals and this winter season and will be taking some of our extra cans to our church's food pantry which gives local families struggling to make ends meet, the chance to come by and shop the church pantry every Monday and Thursday morning. Especially during this holiday season when food is ample in our home, I definitely feel the need to do something more so that others can enjoy some of the things I take for granted every day. Buying in bulk at Sam's Club is a great way to make this happen.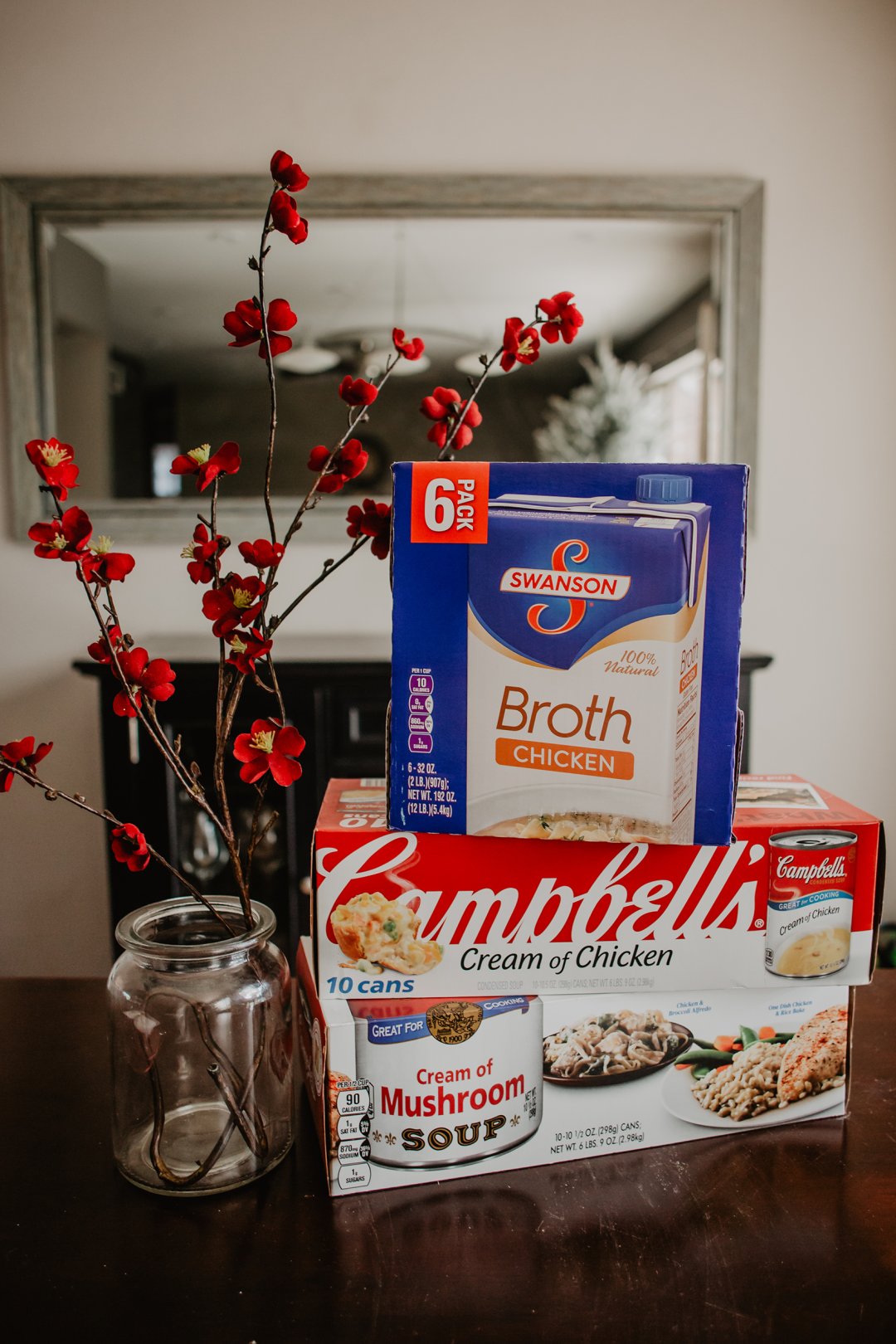 1. Bring a pot of water to a boil. Once boiling, cook bow tie pasta until al dente.
2. Put chicken breasts in a slow cooker.
3. Pour in 1/2 box of Swanson® Chicken Broth, 1/2 can of Campbell's ® Condensed Cream of Mushroom Soup and 1/2 can of Campbell's® Condensed Cream of Chicken Soup.
4. Place a handful of carrots per serving into pot. Add salt and pepper to taste. (Add potatoes, greens, mushrooms or anything else you and your family love!)
5. Cook on low heat until chicken is cooked all the way through.
Once chicken is ready, place each chicken breast on a bed of noodles and top it off with sauce and carrots from your crockpot.
Enjoy!
Now head on over to your local Sam's Club so you can spend less time grocery shopping and cooking and more time with your loved ones this holiday season...without compromising taste!
Sam's Club will be hosting their annual Holiday Taste of Sam's event, a huge in-club demo sampling occasion. Swanson® Chicken Broth will be sampled with Idahoan Mashed Potatoes on Dec 21 & 22. You can do some sampling as well as take advantage of the temporary price reduction of $1.50 off Campbell's® Condensed Cream of Chicken Soup, and Campbell's® Condensed Cream of Mushroom Soup
Check out more Campbell's® Cream Soups and Swanson® Broth holiday recipes and inspiration here.